HOW TO:
Create a beautiful Easter gathering
Delicious food. The loveliest company. Heart-warming decorations. Springtime sunshine. Easter is one of our favorite times of the year. It's an excuse for a fun-filled day to make memories, dine with loved ones and relish in all things sweet and innocent.
An elegant Easter dinner is the ultimate springtime celebration. There needs to be a sense of tradition, a feeling of spring, and more importantly, it needs to be something that looks extra special. Your table should wow guests on arrival and delight as they wait for food to be served. By assembling the right balance of elements, any table can be made festive and beautiful. We would like to share some helpful tips on how to create a beautiful Easter gathering at home with fresh accents, creative layering and a touch of playful charm.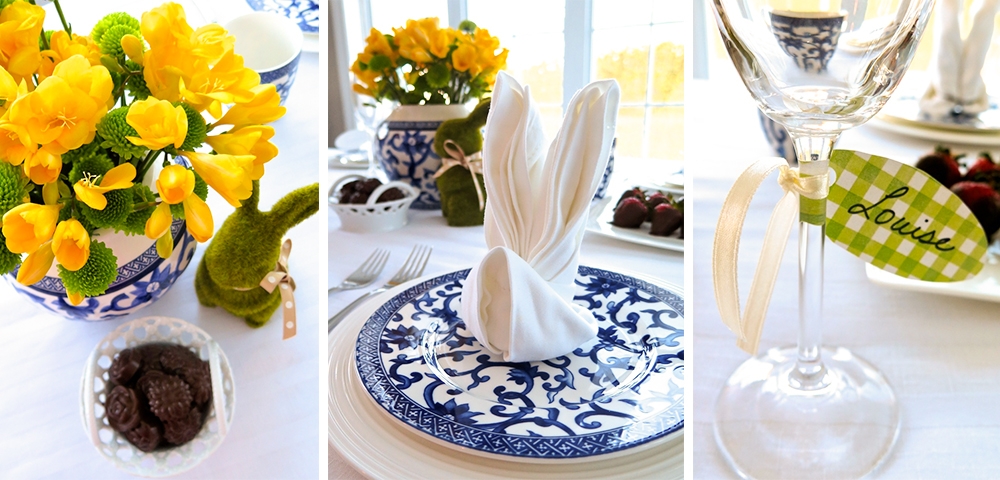 It starts with a tablecloth
Your choice of linens, including the decision not to use a tablecloth, can define the look of the entire table. For special occasions, understated linens made of high-quality cotton or linen are an excellent choice. It just makes the whole look softer. A placemat can be a little too much when you have a tablecloth, a napkin is all you really need. Your tablecloth and napkins don't need to match, but their style and colors should complement each other. For casual settings, be creative with a variety of colored napkins that fit your overall style. The napkin is the perfect place to add a festive touch of whimsy, like tying a decorative element onto the napkin or folding the napkin in a fun shape, such as: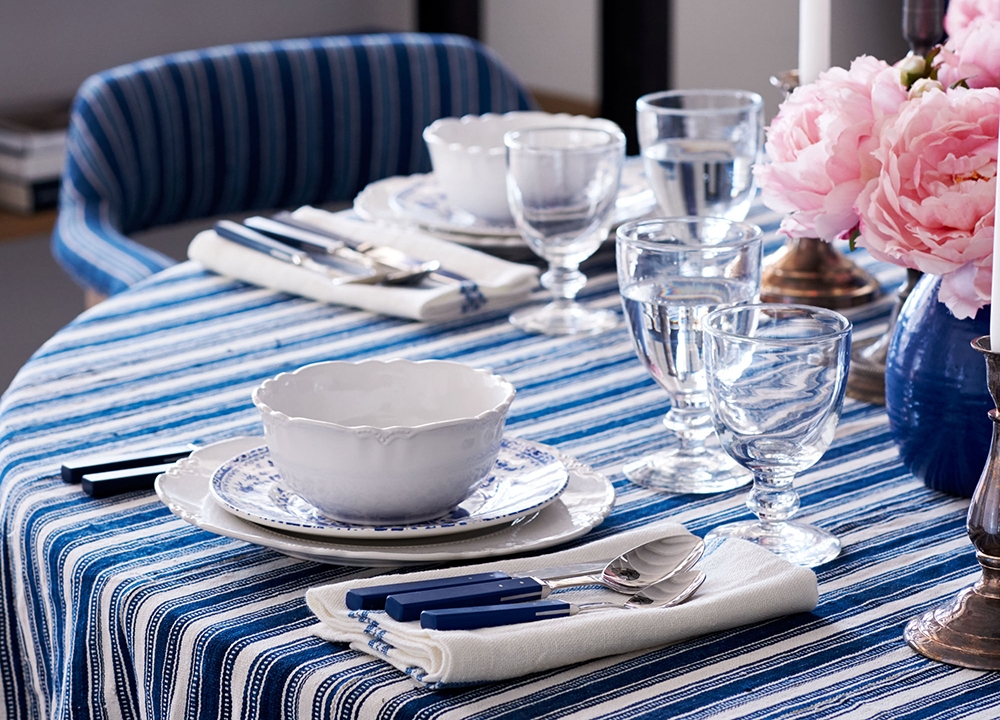 Play with contrasting textures
We love mixing textures on a table. A great way to add richness and depth to your table is to play with contrasting textures. Here, the blue and white tabletop adds a lovely charm to the table with the slightly worn texture of linen napkins, luxe leather chargers, a serving board trimmed with bridle-inspired leather and polished nickel-rivet accents, and, of course, the gorgeous rustic dining table all sets a warm, inviting tone for gatherings.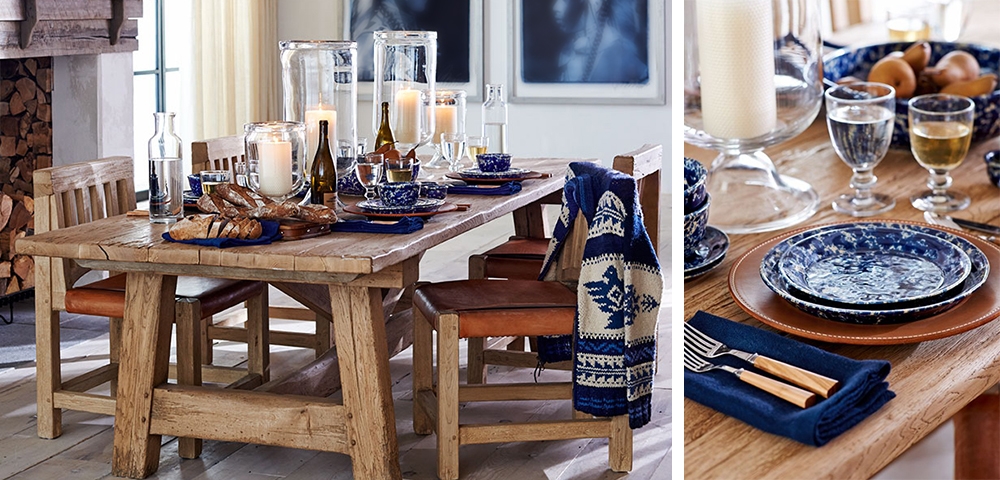 A question of tableware
The plates and serving dishes you choose can help set the overall tone for your celebration. The pieces don't need to match. What is important is that everything has a harmonious style and palette. White tableware never, ever fails. It works with any color and really makes the food pop. You can add to the plates with colored or patterned serving dishes to create a contemporary or traditional look. Unmatched serving pieces that complement your dishes and tableware can add warmth and charm to the dining table. Get the essentials right, and then you can focus on what really matters: enjoying the company of friends.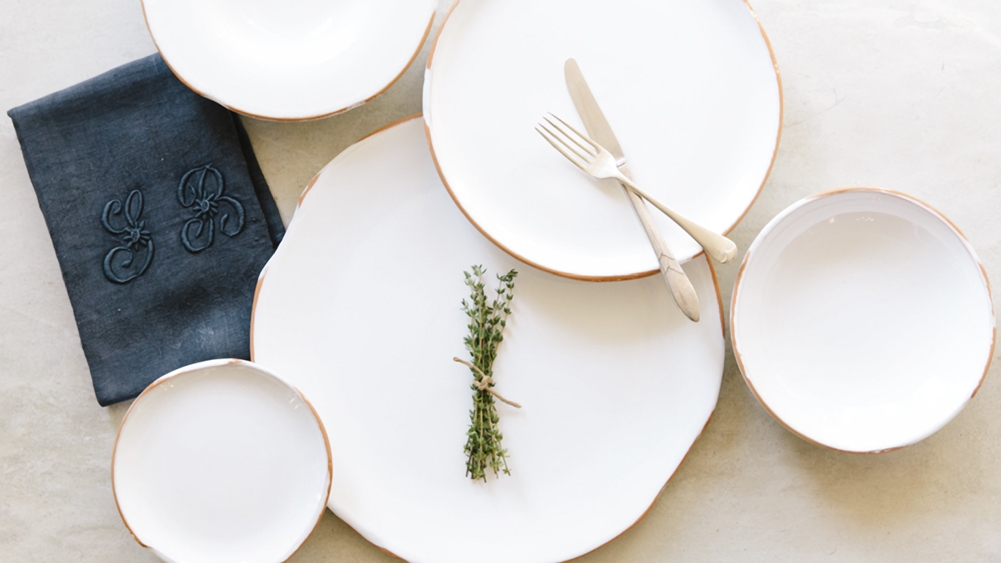 Center of attention
A centerpiece is a must, but the way in which you do it is open to interpretation. The key is to keep the look balanced and fuss-free. Choose a few special pieces to focus on so you don't overwhelm the table. You want to make sure you leave room for the food! Keep the height of your centerpiece in mind; guests should easily be able to see each other. For a striking silhouette and the fresh, natural feel of spring, hyacinths, hydrangeas, tulips and small daisies are lovely for Easter entertaining. Stashing them in a big white pitcher or a voluptuous vase will create a more organic feel that really brings the outside in. If candles are what you love the most, place some pillar candles in a glass hurricane and position them symmetrically either side of your centerpiece: start with the tallest and work your way down to the shortest towards the end of your table. Display decorative eggs across the table in an assortment of colors for a bit of fun.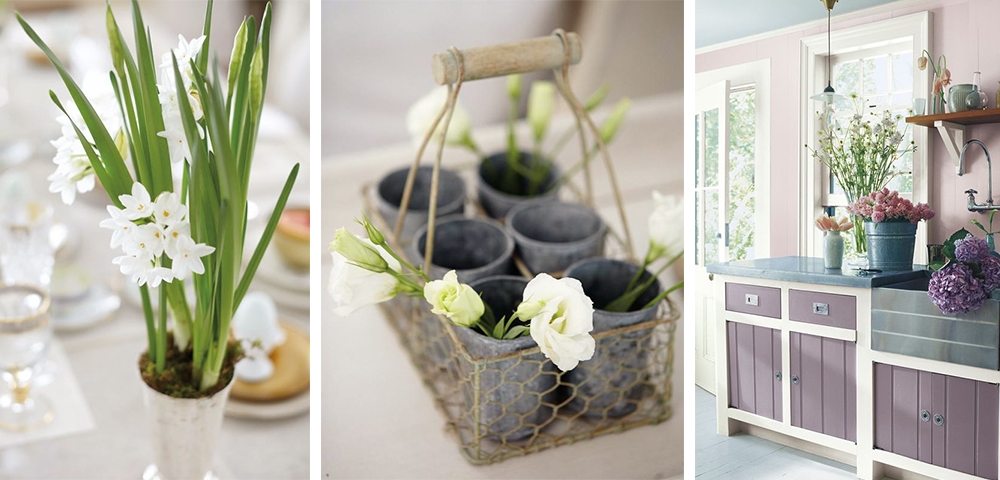 Happy host, happy guests
The most important thing you can do to make people feel at home and relaxed at your table is be relaxed yourself. Be organized. Lay out your serving dishes ahead of time, and set the table the night before. Take time to think of your seating plan so that you yourself can be relaxed and spend time with your guests.
What are your plans for Easter? Share them with us below.